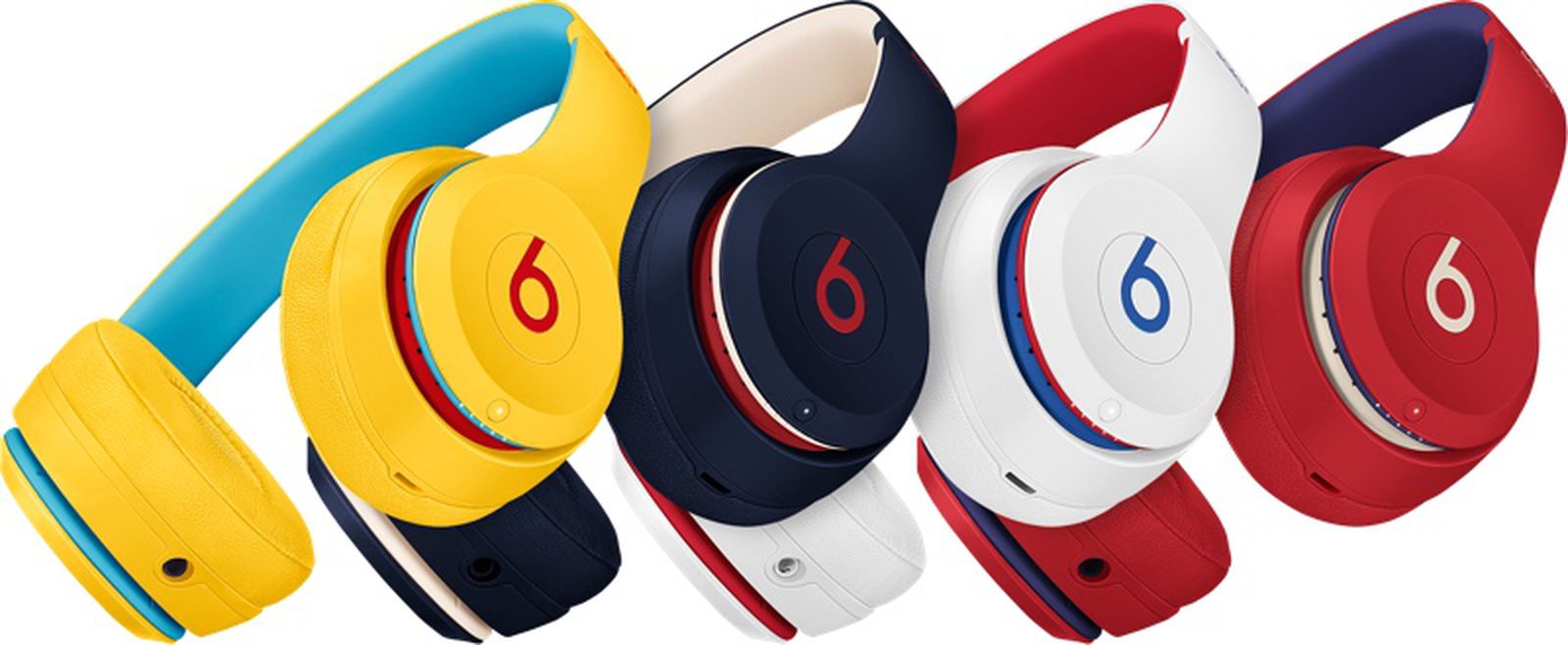 The Popularity of Beats Headsets
Beats has been one of the most popular brands globally, irrespective of still being somewhat young. It's been a few years now that tech giant, Apple, owns the brand, and it has had a huge impact on the tech being used in the wireless and on-ear headphones, as well as the latest designs.
With a huge array of headphones available in different types, including on-ear, in-ear, or over-ear, to decide which headset to purchase might be a little problematic. However, you're in luck as we've given a brief about every Beats headphone available in the market at present. Currently, there are eight pairs of Beats headsets available, consisting of two pairs of over-ears and three pairs of on-ears and in-ears each.
Beats Studio 3 Wireless:

Beats Studio 3 Wireless are over-ear headphones that can connect wirelessly to your smartphone and other mobile devices. They're available in the market in various colors, come with the new W1 chip, and are powered with active noise cancellation technology.

Powerbeats 4:

Beats Powerbeats 4 are sporty, funky in-ear wireless headphones equipped with the H1 chip and an ear-hook design.

Powerbeats Pro:

These are a true wireless version of the Powerbeats 4 but with an upgraded and better design and the same internal build as the Apple AirPods.

Beats Solo Pro:

These headphones sport an on-ear design, but with a more advanced technique than its previous generation — the Studio 3's ANC engine — modified with an H1 chip and improved battery life.

Beats Flex:

Beats Flex headphones are, essentially, a wireless pair of in-ear headphones that come with a neckband and sports the W1 chip.

Beats Solo 3 Wireless:

These on-ear headphones are equipped with the W1 chip and can instantly connect to your iPhone.

urBeats:

These are the traditional in-ear headsets.

Beats EP:

These are the cheapest on-ear headphones that connect through the wire.
Now, let's look at the differences between Studio 3, Solo3, and Solo Pro headphones by Beats. All of them are pretty good headphones in terms of both performance and design, but they still have a lot in them. The Beats Studio 3 Wireless and Solo 3 Wireless are powered by the W1 chip, while the Solo 3 is equipped with the H1 chip. Let's get into why you should purchase one over the other.
The Beats Studio 3 Wireless are over-ear headsets that cover your entire ear inside the ear cap compared to the on-ear designs of the other headphones. This helps block out outside noises, although it comes with active noise cancellation (ANC) technology. The latest version of ANC differs from the previous versions, where it constantly corrects its frequency to match the sound of the environment, thereby making it more flexible and adaptable.
The inbuilt battery is rechargeable and can last for more than 22 hours. Moreover, its feather-like weight together with the soft materials used means that you'll want to listen to music for the longest possible time. There are special buttons on the headsets to skip and change music tracks, accept phone calls, and adjust volume as per your preference.
The Beats Studio 3 Wireless is not just one of the most quintessential headphones available by the brand, but one of the most popular headsets full stop. In terms of the sound quality, they are bassy, but the entire build of the audio has been designed to make it more refined. Additionally, they can go loud and hard, and the breakthrough ANC technology only helps you focus on the songs.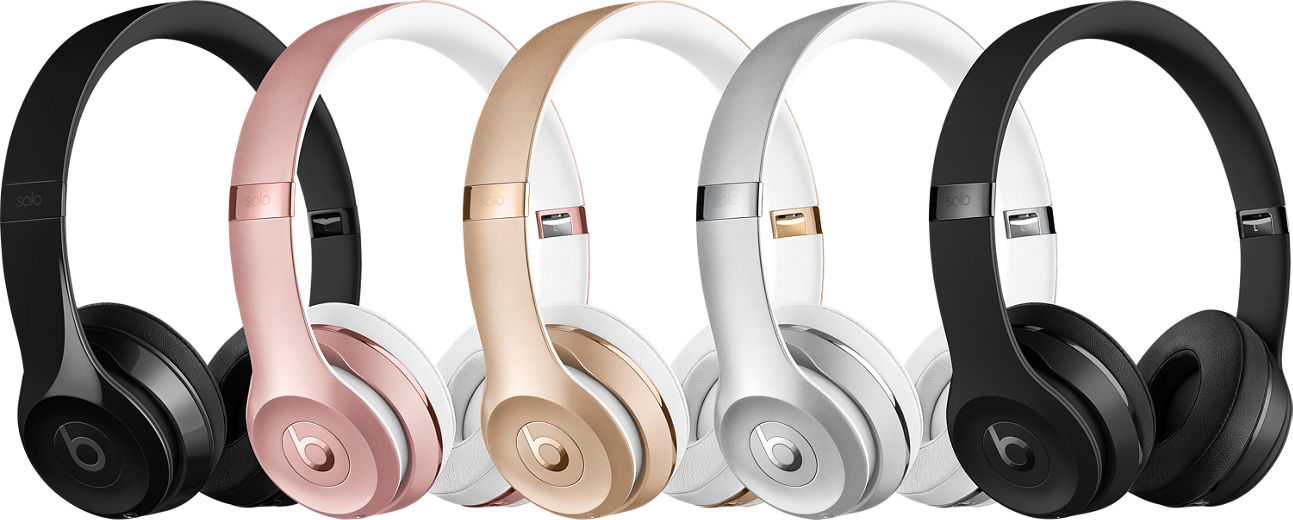 The Solo 3 Wireless was launched around the same time as the iPhone 7 and is equipped with Apple's W1 wireless chip. It lasts for ages on a full charge, provides better Bluetooth range, and has improved connectivity options for iPhone users.
The left ear cup consists of touch-sensitive controls for adjusting volume and changing tracks. The headphones offer up to 40 hours of battery life, and you can plug in a 3.5mm cable to connect it to your phone. Otherwise, you can charge them up for a few minutes to get at least three hours of playback time.
In terms of sound quality, they're a great pair of Beats headphones available at a reasonable price compared to others. So, if you're looking for a powerful yet affordable and portable pair of headphones, the Solo 3 headphones by Beats is the right match for you.
Beats wireless headsets are literally everywhere. The Beats Solo pro is perhaps the biggest upgrade to the brand's Solo line of products since Apple acquired Beats in 2014. The company says that its Solo line-up represents the most renowned headsets in the world, with more than 30 million sold. These headphones are the flagship consumer product that Beats hopes you'll start noticing everywhere in the future. The company considers these headphones to be a part of next-gen products.
While the upgraded Solo Pro carries a $100 premium over the Solo 3 Wireless, this model is also equipped with the ANC technology found in the Beats Studio 3 Wireless for $50 less. These headphones take the superior technology and noise-canceling feature of the Studio 3 and encompass them in a smaller, on-ear pair of headsets. The Beats Solo pro is undoubtedly the best pair of wireless headphones designed by the brand to date.
The headsets sport a premium anodized aluminum arm that skates easily inside and outside of the headband, while the ear cups are padded with memory foam stuffed inside it. The ear cups ascend on arms in a way that enables them to move easily and angle smoothly to fit each user. Moreover, it provides more surface than its predecessor, thanks to its new materials and advanced design. However, you'll need a Lightning cable to charge them as there's no option to use a wired connection with this model. Put simply, the Beats Solo Pro is comfortable, lasts for a significant time on a full charge, and sounds brilliant.
The Bottom Line
Any product has the capability to rise from the bottom and become a global success. One of the best examples of this is the success of Beats headphones. What's important is the quality of your idea and the business strategy that you're pursuing, along with the determination you have to work on it and turn it into something that attracts people.
Apple will continue to launch new Beats headsets on stage next to CEO Tim Cook, just like it did before, including releasing the Beats Powerbeats, Beats Powerbeats Pro, and Beats Solo Pro, all of which are wireless headphones. These headsets come with Apple's H1 chip, which allows for a smooth Bluetooth connection, voice-activated Siri, and upgraded battery life. However, it should be noted that the H1 chip only benefits iOS users.
Beats continues to be one of the most renowned headphone companies in the world, to the point that its competitors are copying Beats' style and signature sound technique. Moreover, the company has expanded to include more than just products, thanks to Beats1 Radio. Now that the company is backed by Apple, this might just be the beginning of Beats so far.